Investing in Mexican Silver Onza Coins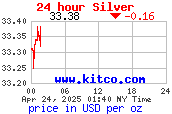 For many people owning  bullion is the best way to invest in silver. Physical bullion bars and coins are extremely popular. People love these bars and coins because they can be liquidated easily at any time. Silver prices are quoted and negotiated regularly.
Investors who have possession of their silver do not have to pay a storage fee. People with larger holdings can go to firms where they can put bullion coins in storage. For many collectors and investors, the Mexican Silver Onza has become a major piece of their collection. Onza stands for ounce, and the majority are produced by the Banco De Mexico. Mexico has many metal ore deposits, and a lengthy history of making metal coinage and bars.
Mexico is one of the leading producers of silver in the World. The country has history of yielding billions and billions of silver, which accounts for about one-fifth of the World's entire silver mine production. Over 100 million ounces of silver are mined per year in Mexico. Mexico is home to one of the World's oldest silver mints. It was originally established by the Spanish in 1535 following the collapse of the Aztec Empire. In fact, Casade Moneda Mexico is one of the original mints. Over 300 years, silver deposits allowed the Spanish Empire to mint silver coins, including the Spanish dollar.
The National Mint of Mexico has established a reputation of minting some of the World's best silver bullion, based off of their Libertad Series. The Mexican Mint began producing the Onza in 1949. A metallic silver bullion coin, the Onza was minted in over 90% silver.
The Mexican Silver Onza was reproduced again starting in 1978. The Mexican National Mint stopped producing the Mexican Silver Onza in 1980. The 1949 and 1978 Onzas have high numismatic value. They sell for high premiums over silver's spot price. The 1949 Silver Onza Coins, in particular, are highly valued because of their age. Silver Onza production is very limited, leaving people to try to get their hands on one of the 10 million Mexican Silver Onza available. You can still get the Onzas at reasonable prices.
The premium on many Mexican Silver Onza coins is as low as 3%, and as high as 10%, depending on the method of payment and the amount that is purchased. The Mexican Silver Onza is a great choice for investors due to its quality and its reputation.